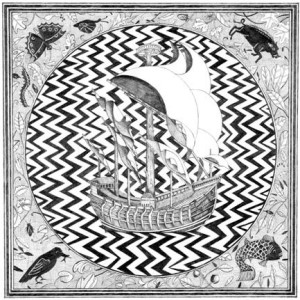 "Shirley Inspired" was released by Earth Recordings on Record Store Day 2015, 18th April, the aim being to publicise and raise money for the documentary film about Shirley Collins currently in production.
It features my solo version of Just as the Tide Was Flowing as well as my collaboration with comedian Stewart Lee on Polly On The Shore, recorded at the Loveday St Welsh Congregational Chapel in Birmingham last November with Stewart on guitar and vocals, and me on concertina.
It's a real honour to be able to pay tribute to Shirley Collins in this way, and I'm surprised and delighted to find myself among such a diverse range of artists as Sonic Youth's Lee Ranaldo, Graham Coxon, Alasdair Roberts, Ulver… the list goes on and on.
The compilation has received a bit of attention –
Stewart and I have also had air time on Stuart Maconie's Freakier Zone thanks to Alex Neilson from Trembling Bells who was doing a feature on the UK folk scene; Uncut magazine also put Polly on the Shore in their "crucial tracks" playlist not so long ago, although I'll be damned if I can find it now.
The 3LP set was a Record Store Day special (500 copies in the UK, 500 in the USA) but there will be a digital release to follow, I believe.